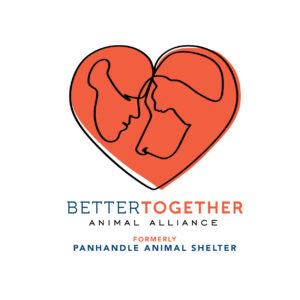 Panhandle Animal Shelter is now Better Together Animal Alliance and we wanted to take this opportunity to explain our name change; the reasons why and the process we followed to come up with our new name.
But first, you should know that our mission – to create and support meaningful connections by enhancing the lives of dogs, cats and the people in our community who love them – has never been more alive. We have a new name, but our mission, staff, programs, and services will stay the same.
More than a shelter
In 2018, our board and staff went through a strategic planning process. During that time, we realized our mission and name no longer represented our work and we committed to doing a deeper dive into who we are and what we stand for.
Throughout our exploration, we updated our mission to reflect how we strive to support both sides of the human-animal bond and we reflected on how we're more than a shelter for lost and homeless animals. Thanks to our donors, past and present board members, volunteers, and staff, we've grown so much over the years. Gone are the days of animals living in cages for months while they wait for homes, strict adoption policies, and practices that help animals but do nothing to support their owners. Our work has evolved and so have we. 
We envision a world where people and animals stay together, and animal sheltering is only for lost pets, emergencies, or pets who need a place to stay temporarily. We believe that if we invest in supportive programs that help people with their pets we'll have fewer animals in need of sheltering and people and pets will live happier and healthier lives. 
We're making great progress on our vision. Did you know that in 2019, we served 8400 animals, and only 2500 ever entered the shelter? Did you know we quadrupled the number of animals assisted in five years, reduced the length of time an animal stays in the shelter by 77 percent, and reduced owner surrendered animals entering the shelter by 33 percent. We're also proud to share that our Home To Home program is used to find pets new homes in 51 shelters throughout North America. It's clear- we're more than just an animal shelter, and we're serving more than just the Panhandle. 
Our success is a result of investing in upstream approaches to supporting people and their pets and embracing our community as our best partner. One of our fundamental beliefs is that people are good, and when we remove shame and judgment from our approach, we can save more lives. 

The process
In 2019, we asked Lisa Gerber of Big Leap Creative to help us discover a new name and guide us through the rebranding process. Lisa conducted numerous interviews, surveys of our community, and a stakeholder workshop with board members, staff, and donors. 
Through Lisa's work, she observed an overarching and important theme – that we are all better together. Humans and their pets are better together. Lost pets and families are reunited when we work together. Our staff, volunteers, and board members accomplish more together. With generous donor support, together we make an impact in the lives of people and pets in need. 
Therefore, as of this month, we are Better Together Animal Alliance. 
We want to thank the team who guided and designed our new look. Lisa came up with our new name and messaging, while Barbara Schelling created our beautiful new logo and brand look, and Kelli West translated that design into this stunning new website. 
Once again, be assured, our name is changing, but our mission, staff, and programs will remain the same. This name reflects both our mission and our actions. More than ever, we are committed to supporting the human animal bond because when it comes to people and animals, we believe we are all better together.